Online debate addressing extraction, gentrification, labor and institutional critique on the occasion of Renzo Martens' new film White Cube. With Sandrine Colard, Aymar Nyenyezi Bisoka, Renzo Martens, Jean Katambayi Mukendi, Wendy Bashi and Jean-François Mombia Atuku.
Zoom event is sold out. If you didn't reserve an online ticket, you can follow the debate via the Facebook Live of the event.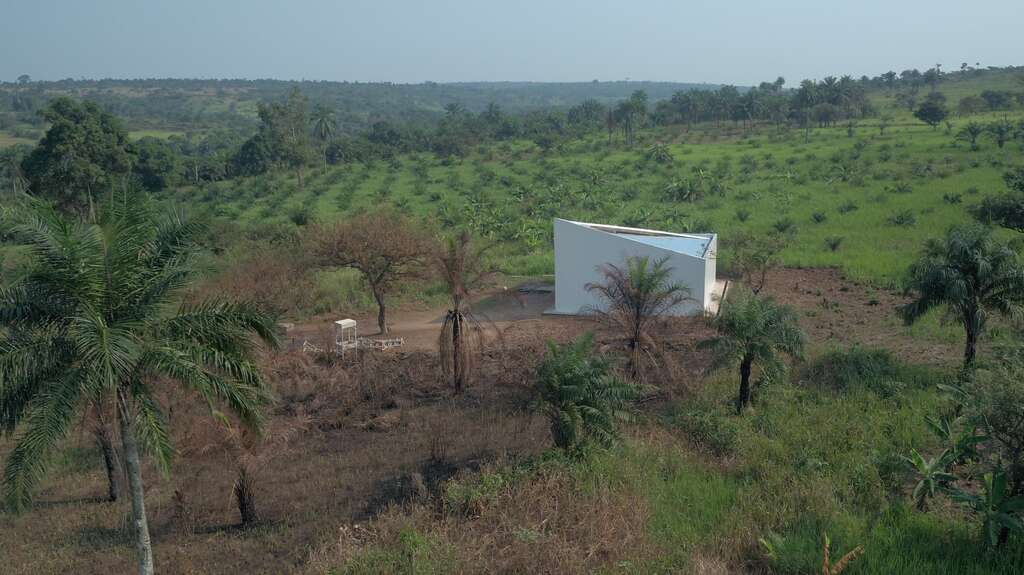 To accompany the global launch of Renzo Martens' feature-length film White Cube, available here from 24-03 to 11-04, WIELS will be hosting an online talk addressing concerns raised by the film such as extraction, gentrification, labor and institutional critique. Participants include doctor of modern and contemporary African art history, writer, and independent curator Sandrine Colard, lawyer and political scientist Aymar Nyenyezi Bisoka, political activist Jean-François Mombia Atuku, and the artist himself, Renzo Martens. The talk will be co-hosted by artist Jean Katambayi Mukendi from Lubumbashi-based art organization Picha and mediated by journalist and filmmaker Wendy Bashi.
White Cube (2020), a new feature-length film, introduces the Cercle d'Art des Travailleurs de Plantation Congolaise (CATPC), a plantation workers' cooperative based on a former Unilever plantation in Lusanga, Democratic Republic of Congo. The film shows how CATPC successfully co-opt the concept of the 'white cube' and use the privileges associated with it to buy back their land. Building a white cube, they halt the destructive system of monoculture that depleted their lands.

Aymar Nyenyezi Bisoka is a post-doctoral researcher, lawyer and political scientist. Since 2020, he is assistant professor at the University of Mons, in Belgium. His doctoral dissertation focused on land grabbing by local elites in the African Great Lakes region—Burundi, Democratic Republic of Congo (DRC), and Rwanda—particularly on issues of power and resistance in relation with access to natural resources in this region. In addition to natural resources, his current postdoctoral research focuses on issues related to the peasantry and armed groups in the region, and critical Afro-diasporic thinking.

Renzo Martens is an Amsterdam and Kinshasa-based artist and filmmaker. In 2010, he co-founded the Institute for Human Activities in Lusanga, of which he has been appointed artistic director. The IHA is the initiator of a series of gentrification programs, from which the inhabitants of the region can benefit economically and financially.

Sandrine Colard is a doctor of modern and contemporary African art history, writer, and independent curator. She is currently assistant professor of art history at Rutgers University, in Newark, USA. Her curatorial projects include The Expanded Subject: New Perspectives in Photographic Portraiture from Africa (co-curator, Wallach Art Gallery, New York, 2016); The Way She Looks: A History of Female Gazes in African Portraiture. Photographs from The Walther Collection (Ryerson Image Center, Toronto, 2019); and Multiple Transmissions: Art in the Afropolitan Age (Wiels, Brussels, 2019).

Jean Katambayi Mukendi is a Lubumbashi-based artist holding great interest in technology, mechanics, geometry and electricity. In his work, he combines influences from daily life with experience gained from his training as electrician. He creates fragile and complex installations driven by sophisticated electrical mechanisms. His technological discoveries are part of a search for solutions to social problems in current Congolese society.

Wendy Bashi is a Belgium-based freelance journalist and filmmaker. She is the author of documentaries and television reports as well as radio shows mainly broadcasted on RTBF and Deutsche Welle. For years, she has been the host of Reflets Sud and Afrique Plurielle, produced by TV5 Monde and CIRTEF (Conseil International des Radios et Télévisions d'Expression Française). Bashi is also a regular contributor to magazines such as Jeune Afrique, Enjeux Africains, Amina, Glo.be and Images Francophones.
Jean-François Mombia Atuku is a Congo based political activist, founder of the organisation Réseau d'Information et d'Appui aux ONG en République Démocratique du Congo (RIAO-RDC), that ensures protection, assistance and support to local communities in face of exploitative and extractive initiatives, both human and territorial, mostly led by multinational companies.