Artists and their practice are the core commitment of WIELS, therefore the process of conception, creation and production is made possible on a daily basis, discretely but consistently, remote from public exposure. WIELS offers a programme oriented on practice, critical reflection, dialogue with peers, contacts with audiences.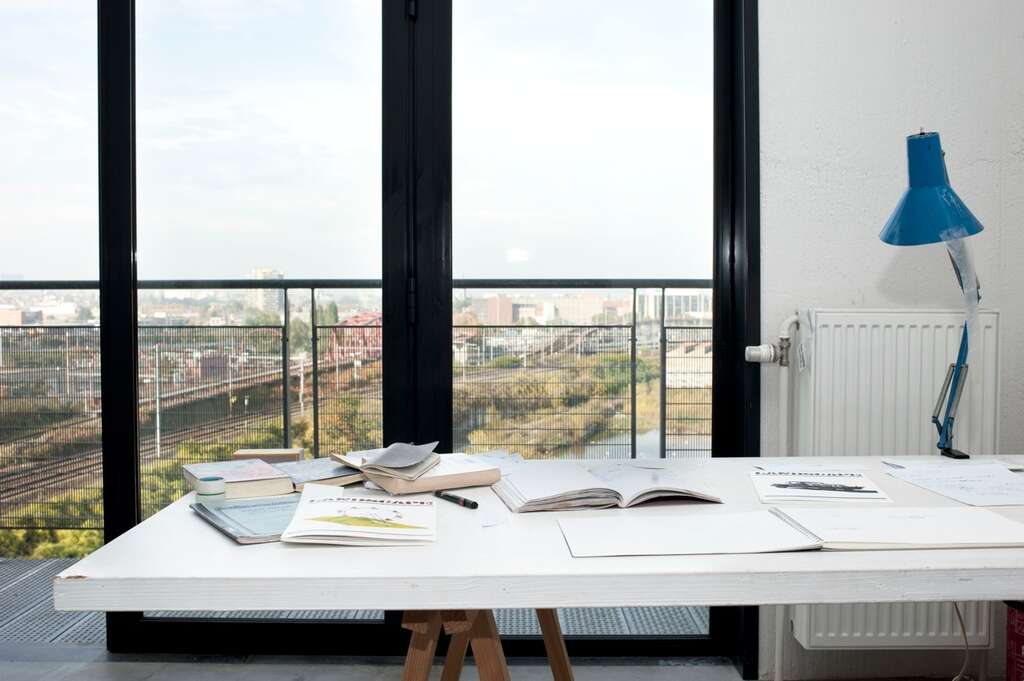 THE PROGRAMME
Up to 20 artists participate in the residency programme each year, in two sessions of 6 months. For each session, 2-3 of the 9 studios in WIELS are allocated to Belgium-based artists, while the remaining are dedicated to international residents, who are selected through specific calls. The artists are not selected based on age or renown, but on the originality and quality of their discourse and aesthetic language.
The residency provides working spaces in a suitable environment for artists who seek autonomy, feedback and/or interaction with peers, and the interdisciplinary art scene that Brussels in particular offers, engaging in current artistic and theoretical debates through weekly discussions with the mentors, visits, presentations and public interactions with audiences. The WIELS residency thus helps artists to develop their work and their professional practice.
Partnerships are established with various institutions or foundations from different countries in order to fund the international residencies, including countries that are under-represented in the contemporary art scene, with the aim to reflect a certain geographical diversity. A jury composed of the artistic director of WIELS, Dirk Snauwaert, and the artist mentors of the programme, Sylvie Eyberg, Simon Thompson and Manon de Boer, select the residents, with the occasional input of advisors who are deeply informed about the relevant countries' art scenes.
Candidates are not selected upon spontaneous applications nor on invitation. WIELS releases a call for applications every spring on its website and via the newsletter, aimed at artists of Belgian nationality or based in Belgium (who have completed their studies and with a minimum of 3 years of contribution to the Belgian artistic scene). All other international artists are selected through corresponding calls from partner institutions in given countries. Our partners may vary from year to year and are listed on this page.
OPEN CALLS
There are currently no open calls for applications. Future calls will be announced on this page and via our newsletter in due time. Please also check the websites of our international partner institutions - listed below - for annual calls in their concerned countries or regions.
CONTACT
Please contact the coordinator of the programme, Eva Gorsse, for questions and more information.

Acción Cultural Española (AC/E)
Africalia
Arts Council Korea (ARKO)
Artus Perú & ICPNA
Estonian Centre for Contemporary Art (CCA)

Europalia Georgia

Mondriaan Fonds

Office for Contemporary Art Norway (OCA)
Regional Government of Styria, Culture Dep.

SOFAM
Tokyo Arts and Space (Tokyo Museum of Contemporary Art & Metropolitan Foundation for History and Culture)
Vlaanderen Departement Cultuur, Jeugd & Media
&
Eubelius

Maison Dandoy
Dhr. Xavier Hufkens
Mme Sylvie Winckler

WE Club
List of artists