Citra Sasmita (ID, °1990) is a contemporary artist whose work focuses on unravelling the myths and misconceptions of Balinese art and culture. She is deeply invested in questioning the woman's place in the social hierarchy and seeks to upend normative gender constructs.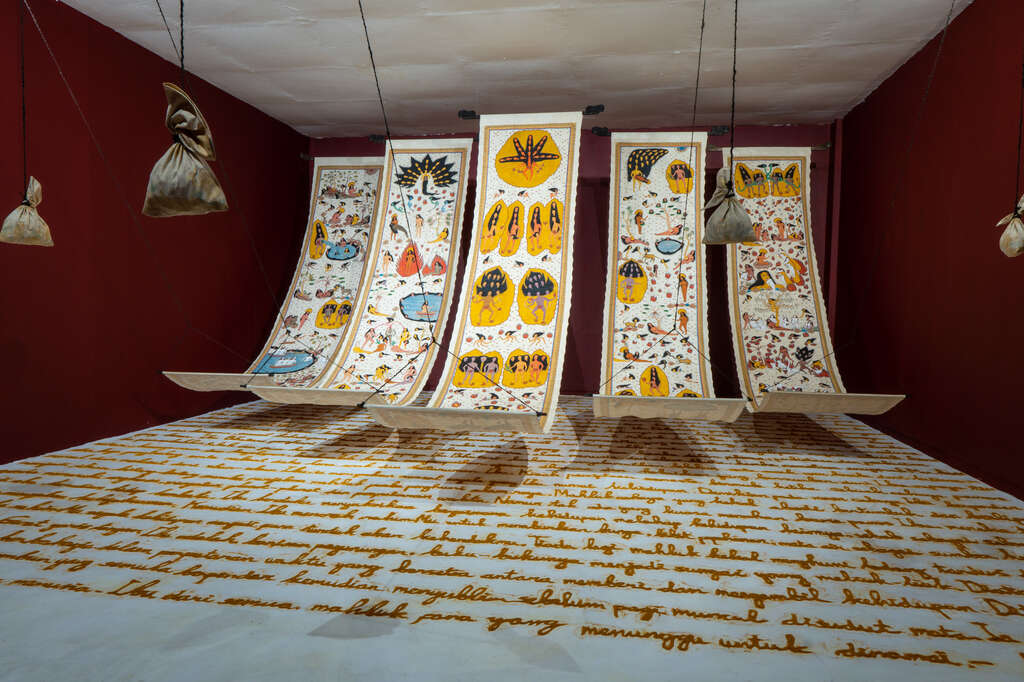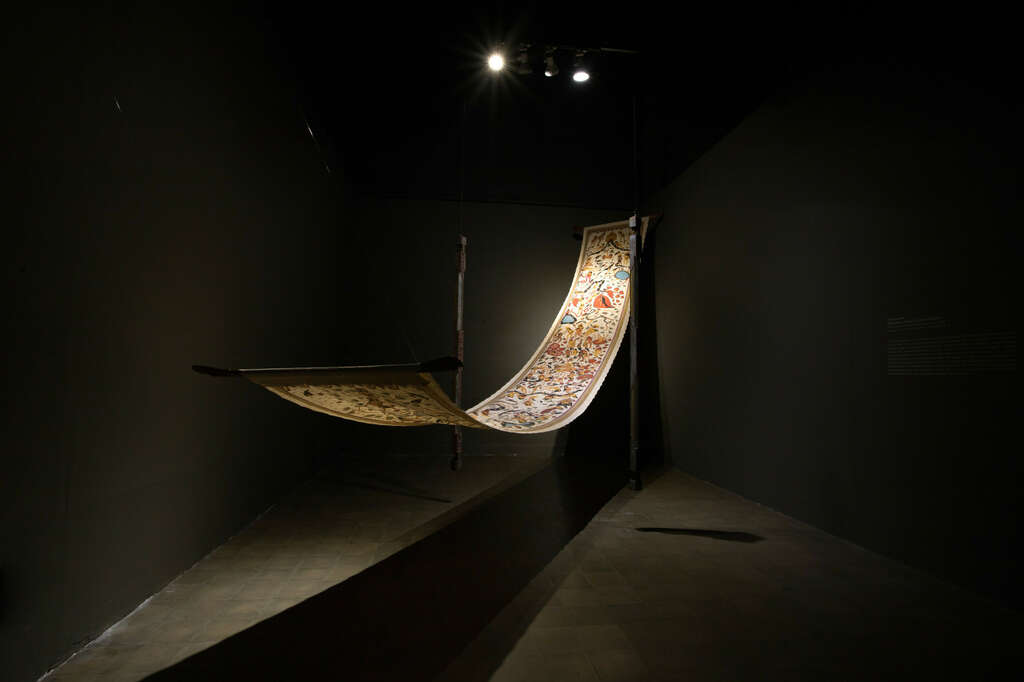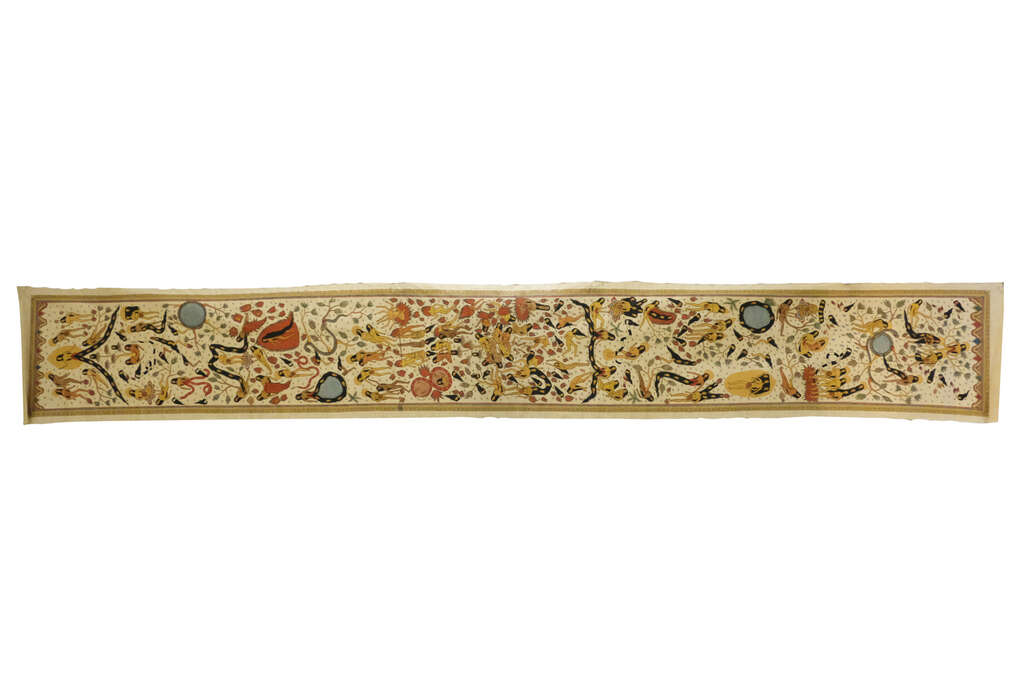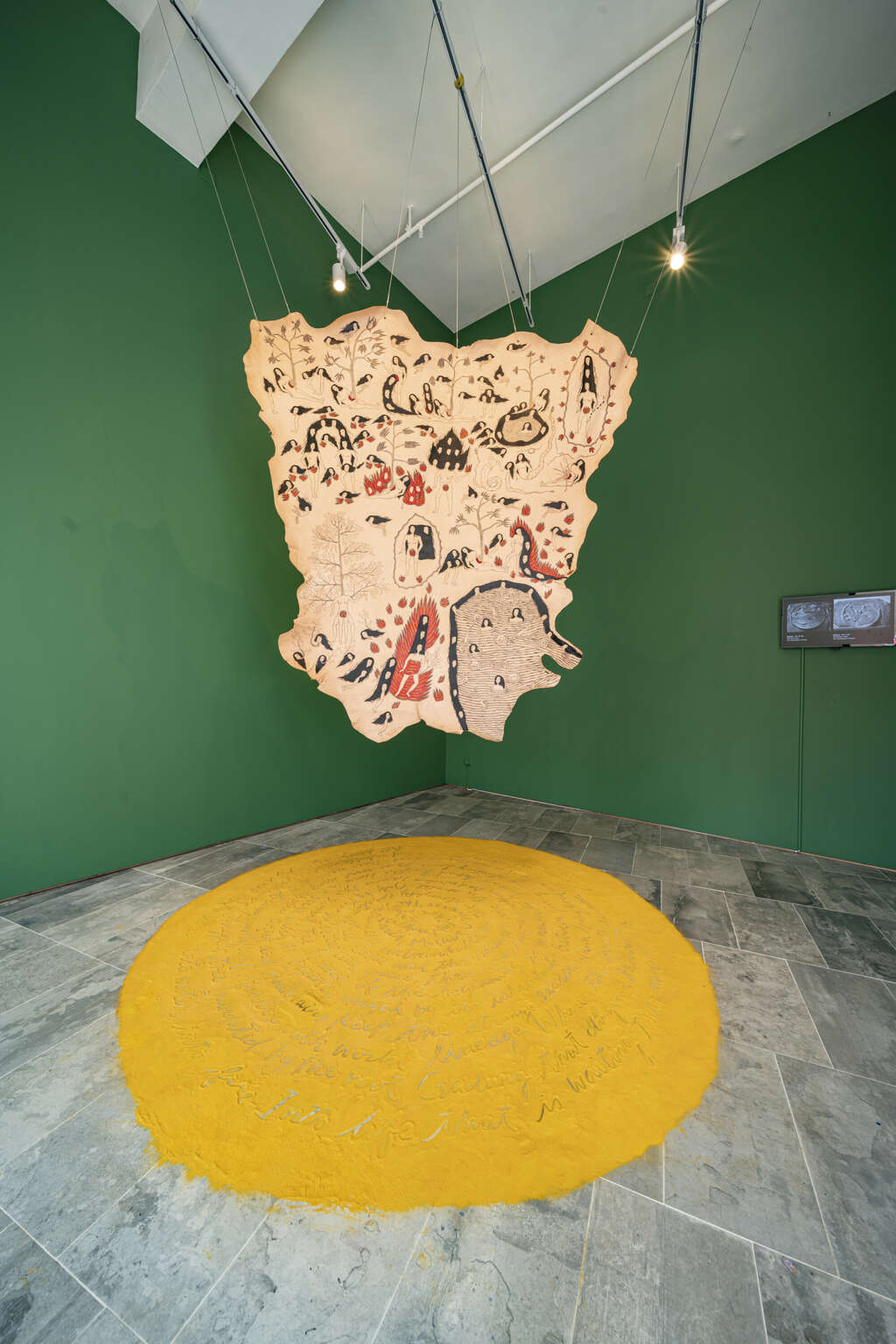 Citra Sasmita studied Literature at Udayana University and Physics at Ganesha University of Education and has a background in theater. After her education she started working as a short story illustrator for the Bali Post where she further developed her practice. During this period she began researching literary and symbolic forms and how these narratives establish and fuel patriachal power structures. Specifically focussing on the Balinese legends and myths, she appropriates ancient manuscripts and cultural traditions to propose a counternarrative through her illustrations, performances, paintings and installations.
Since 2019 she has been working on her Timur Merah Project (The East Is Red Project) series, in which she replicates the Kamasan Balinese painterly language on different surfaces such as cow's hides and sculptural scrolls of paper. The series of installation work seeks to place female figures as protagonists by combining mythological thought with Hindu and Balinese references. The work unfolds in the space as the carriers of these illustrations are placed in the middle of the exhibition hall. The hybrid storylines, which touch upon an imagined post-patriarchal society, are told within the illustrations themselves and are reinforced by the various other physical elements in the space, such as the texts written in turmeric powder. The series consists (for now) of: The Embrace of My Motherland (2019), The Harbour of Restless Spirits (2019), Ode To The Sun (2020), Tales of Nowhere (2020), The Verge of Mortal Ground (2020), Tidings of the Heavens (2021) and Divine Comedia (2021).
Citra Sasmita was involved in various exhibitions, such as Merayakan Murni, Sudakara Artspace Sanur, Bali (2016); Mabesikan Project, Art for Social Change Presentation, Salihara, Jakarta (2017); Redraw III: Ugahari, Edwin's Gallery, Jakarta (2018); and Synthesis (Wonders of Indonesia), National Gallery Kvadrat 500, Bulgaria (2019). Citra also became the Gold Winner of the UOB Painting of the Year (2017). Her most recent solo exhibition entitled Under the Skin was held in REDBASE, Yogyakarta (2018).


Citra Sasmita's residency at WIELS is part of the SEA AiR – Studio Residencies for Southeast Asian Artists in the EU, a programme developed by NTU Centre for Contemporary Art Singapore and supported by the European Union.