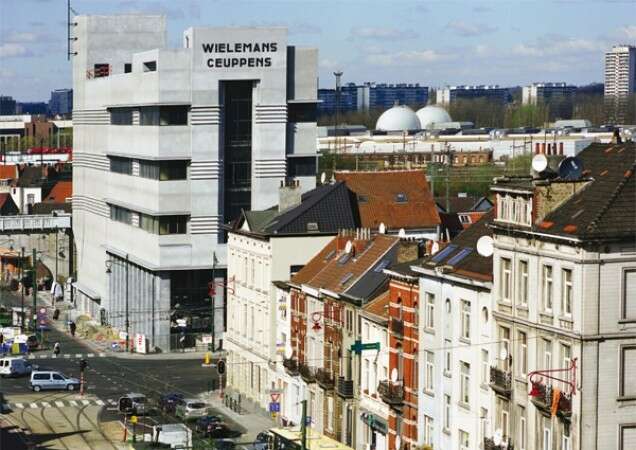 Although not fully refurbished, Wiels wants to involve the public with its development. During three days, the brew hall, an inaugural exhibition, three film premiers, guided tours concerts and performances will be freely accessible to everyone whos eager to discover this new and major cultural institution. After the opening weekend, Wiels will remain open and will progressively expand the occupation of its building and develop its range of activities and services.

3-DAY PROGRAM

Saturday and Sunday : 12 24 : 00
Monday : 12 20 : 00

Exhibitions

Expats/Clandestines

This exhibition explores the question of plural identities, which are formed beyond national borders and lines of demarcation, wether they are real or imaginary

Marcel Berlanger, Tore
On the second floor of the still unfinished Wiels Marcel Berlanger presents a "theatrical" experience of painting.

Short films

Ann Veronica Janssens, Eclipse
The abstract magic of a natural phenomenon captured by one of the greatest contempary Belgian artists

Hiraki Sawa, Hako
A meticulously choreographed rêverie by a young master in animation film

Paulina Olowska/Bonnie Camplin, A like Akarova
A danced and animated tribute by two young artists to a famous dancer and choreograher who lived in Brussels

Soundscapes

Building Transmissions presents a synergy between space and sound

Food & Bar

Guided Visits of the exhibitions and the building

SPECIAL PROGRAM

Saturday

15 : 00 : Allocution by the Mayor Mrs. Magda De Galan and the aldermen
16 :30 17 : 30 : Dance performance by P.A.R.T.S
17 : 00 : Atlas Jav, a mix of European pop, hip hop, Brazilian percussions and Arab influences

19 21 : 00 : Peter Boonen (Soul Movement)
21 22 : 30 : Nurse (Experimental)
22 : 30 24 : 00 : Dj Simon Le Saint (old skool hip-hop)

Sunday

19 h 20 h 30 : Dj Majella (variétés 60s)
20 h 30 22 h : Dj Pappy KO (free jazz)
22 h 24 h : Bernard Dobbeleer (afrobeat)

Monday

19 h 20 h : Spectators Only, performance by Paulina Olowska&Bonnie Camplin
Olowska and Camplin present a unique performance in shadow play to accompany their film dedicated to Akarova, the famous dancer and choreographer. An exceptional event for the closing night of the weekend !