United we stand, divided we fall

From immemorial times, artists have federated themselves to propose alternative perspectives on art and develop independent communication tools. Artists collectives are an essential operating modes to instigate and diversify the artistic scene on a scale ,both local and global. With important or lesser means, composed by younger or older artists, these collectives organize exhibitions, publish magazines, program events, promote discourses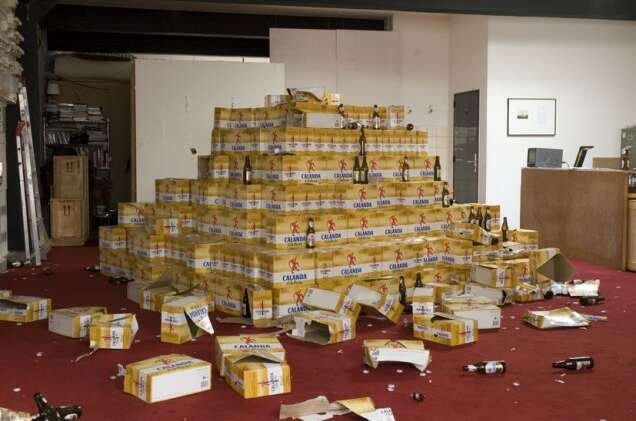 At the event of the roundtables commissioned by WIELS within the context of the exhibition Un-Scene, CODE invites two artists collectives presented in its new issue - Hafriyat from Istanbul and 1m3 from Lausanne - to present their project. The collectives and CODE will exchange their respective experiences ofpromoting and representing local emergent scenes, their relationships with institutions and the commercial galleries, the specific problems they face, their impact

Speakers:

- Devrim Bayar (Editor in Chief, CODE Magazine)
- Benjamin Valenza (Artist & founding member of 1m3)
- Mustafa Pancar (Artist & founding member of Hafriyat)

Moderator: Frédéric Jaquemin (Art Historien; Senior Expert of the Cultural Observatory for the African Caribbean and Pacific Group of States)

CODE is a platform for the diffusion and promotion of the emerging art scene, Belgian as well as international. Based in Brussels since 2005, CODE gathers 5 young curators and artists who publish a free magazine and curate exhibitions. CODE is Devrim Bayar, Mariana Melo, Virginie Samyn, David de Tscharner, Thomas Wyngaard

1m3 is an independant structure of reflexion led by Benjamin Valenza, Stephane Barbier Bouvet, Jeanne Graff and Adrien Missika, organized around the enigmatic figure of Josef Hannibal (Chaman & curator!). Since 2006, 1m3 has been a studio, a gallery, a conference room, a concert hall, a dancefloor, a publishing house... 1m3 does not define itself!

Hafriyat, meaning « excavation » in Turkish, is a collective of 10 artists, who share an interest in « excavating » the signs of the local and urban environment. Hafriyat runs a non-profit space in Karakoy, where they exhibit their own works as well as those of other emerging artists, organize events and publish catalogues.

Frédéric Jaquemin (B. 1973; lives and works in Brussels)
Frédéric Jacquemin's professional activity revolves around international cultural policies. Since 1998, he has been involved in several cultural training, research projects and consultancy for several art organisations and funding bodies in Europe and Africa. In 2005, he directed the audiovisual documentary "The Third Paradise" which focuses on the tension between contemporary art practices and politics in Europe. He frequently publishes analyses and lectures on recent evolutions of the cultural sector.