Ronan Le Creurer: flying and resting sculptures + special stamp edition with La Houle
Ronan Le Creurer's flying elements exist in turn as still sculptures and wind-activated, performative tools. They function as kites, whose history they evoke through research on the origins of flying objects in the beginnings of nineteenth-century aeronautics.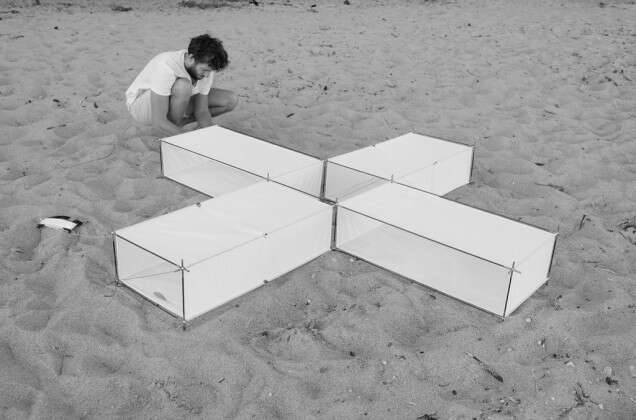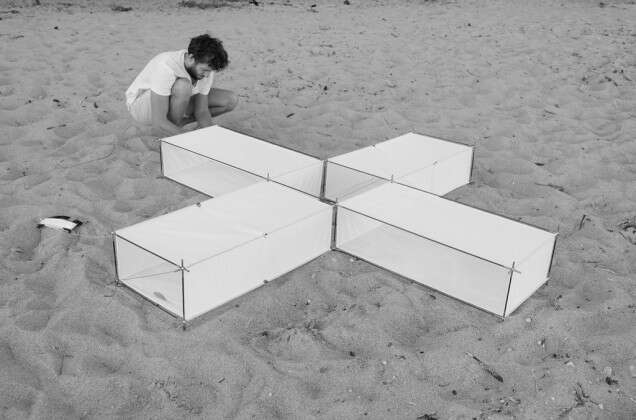 During WIELS Art Book Fair 2017, Ronan Le Creurer will present, together with La Houle, the second stamped postcard from the Over the Line series. As an archive of sorts, these postcards the distribution and the representation of the actions performed by the artist.
The landscape views of the postcards are places that signal the completion of two journeys: a beach at Stanwell Park, on the Pacific Coast of Australia, and Baddeck hills, on the eastern shores of Cap Breton Island in Canada. These two sites served as backgrounds for the first activations of the flying sculptures. They form a contextual link with the history of aeronautics to which Ronan Le Creurer's flying elements are attached.
During the fair, a sculptural installation will be displayed in the garden of the WIELS, and the flying elements will be activated on top of the building on Sunday September 10 at 2pm.
Born in 1988, Ronan Le Creurer lives and works in Paris. He graduated from the the École des Beaux-Arts d'Angers in 2012. He then joined a one-year research and cooperative program at ESACM in Clermont-Ferrand, and was an artist in residence at the Centre d'art contemporain de la synagogue de Delme in 2015. He then founded L'Agence, an exhibition space in Paris, before joining the collective studios and artist-run space ChezKit in Pantin. Ronan Le Creurer practices sculpture like a science of assemblage: the secret mechanisms ruling over the elaboration of his works testify to this art of collage and of montage in which elective affinities between images, objects, narratives, gestures and techniques an agitated sense of disorder.
10.09.2017, 14:00 - 17:00
WIELS Garden and panoramic roof terrace
FREE