Nikolaus Gansterer - Wor(l)ds Don't Come Easy
Free
Event
Residency
Project Room
WIELS Project Room, Tuesday until Sunday, 14:00-18:00
How does language relate to the world and vice versa? Is it possible to grasp seemingly invisible things like thoughts, feelings or atmospheres through art? What signs, lines or languages must be found or invented first?
These and similar questions are at the centre of the Project Room presentation Wor(l)ds Don't Come Easy by the Austrian artist Nikolaus Gansterer. Two complementary series of works address the dynamic interplay between language, world perception and finding signs.

Opening: 05.04.2023, 18:00-21:00
Presentation: 06.04 - 23.04.2023, 14:00-18:00
Free entrance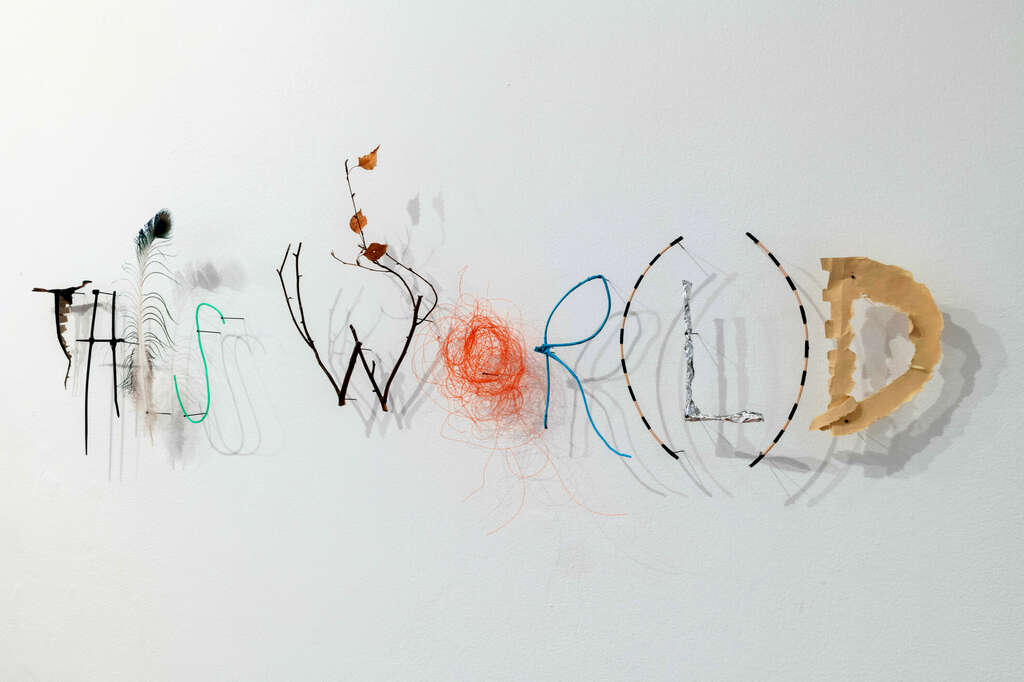 Gansterer has spent three years intensively studying the influential work of the philosopher Ludwig Wittgenstein, in particular his book Philosophical Investigations (1953). In exchange with the philosopher Klaus Speidel, drawings, objects, installations and performances were created, which have now been published in a book. In the series of works Philosophical Deviations, Gansterer takes up philosophical thought and translates and expands it with artistic means. In a playful dialogue with Wittgenstein's writings, fundamental themes such as pain and image, colour and imagination, death and the materiality of language come into view. As part of his ongoing research project Contingent Agencies, Gansterer is researching the topic of human and non-human agents. In highly concentrated sessions, Gansterer attempts to notate the entangled interaction of wind, temperature, movement and the perception of a specific atmosphere and mood by means of performative drawings. The exhibition Wor(l)ds Don't Come Easy brings these two groups of works in a complex relationship and provides a fascinating insight into Gansterer's exploratory view of the world.
Events
As part of the exhibition opening on Wednesday 5 April at 18:00, the newly published book Playing with Ludwig / Jouer avec Ludwig (Gansterer&Speidel, Editions Dilecta Paris, 2022) will be presented. The writer and dramaturge Jeroen Peeters and the artist Nikolaus Gansterer engage in a conversation and performative activation, Drawing on a Book. How do words, lines, images and the world of the page converse with the multiple languages of artistic practice?

On Friday April 7 at 16:00 Gansterer will give a guided tour through his exhibition.
Biography
Nikolaus Gansterer (b. 1974) lives and works in Vienna. In 2018 he was artist in residence at WIELS. As an artist, performer, and researcher Nikolaus Gansterer is deeply interested in relational field between drawing, thinking and action. Across forms of installations and performances he traces the translatability of phenomena of perception into an artistic environment. In his trans-medial work, he focuses on mapping ephemeral and emergent processes unfolding their immanent structures of interconnectedness, questioning the imaginary threshold between nature and culture, art and philosophy.
2019-2023 Gansterer is heading Contingent Agencies, an interdisciplinary artistic research project on experimental diagramming of atmospheres, situations and environments. Since 2007 Gansterer is teaching at the University of Applied Art in Vienna.
www.gansterer.org