Join us in the weekend of 22 and 23 April for the durational live project Basically by Nikima Jagudajev at WIELS. You can arrive whenever suits you: the performance has no beginning or end and can be experienced whenever you feel like it, and for how long as you want.

Saturday 22.04.2023, between 17:00-23:00
Sunday 23.04.2023, between 12:00-18:00
Tickets: € 10 / 7 / 4 (Exhibitions included on Sunday, and on Saturday until 18:00)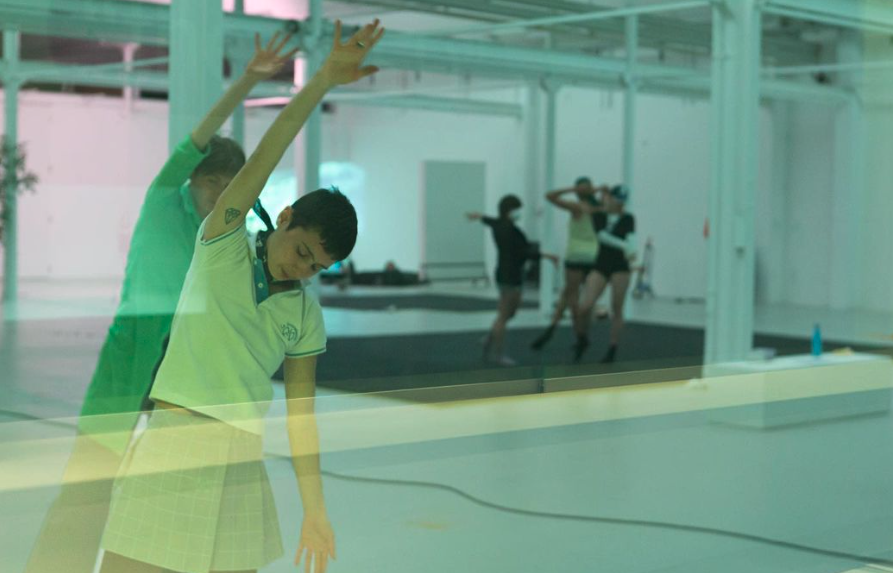 Basically is an ongoing live project whose exhibition format is a hybrid production space, residency space, school yard; a context to practice and perform within. Jagudajev's collective, prefigurative practice is called re-schooling, coming together and sharing devotions. A reconstruction of what so many of us—some more than others—were deprived of as children: the laughter that fills the halls between classes, locker decorations and secrets underneath the bleachers. Re-schooling requires the input of many artistic practitioners, sharing with one another their most impassioned selves, sewing relational threads, building strong bonds with themselves and others.
The performance is structured as a choreographic game for several performers with interactive and playful rules. It includes nonlinear dance choreographies that fold in on themselves like portals through time, fugue-like contrapuntal guitar melodies, vocals and Ableton soundscapes, daily I Ching castings that locate the performers in a shifty universe, a deck of collectable cards called POWDER, Arcane Clothing, Still Lifes, "crits" – art class crit turned oracle – and unscheduled time that leaves room for contingency. Visitors are invited into this shifting constellation. They become involved in making and remaking the environment; a sociality of difference.
Curated by Helena Kritis
With the support of Phileas - The Austrian Office for Contemporary Art
In collaboration with Dhaka Art Summit & Workspacebrussels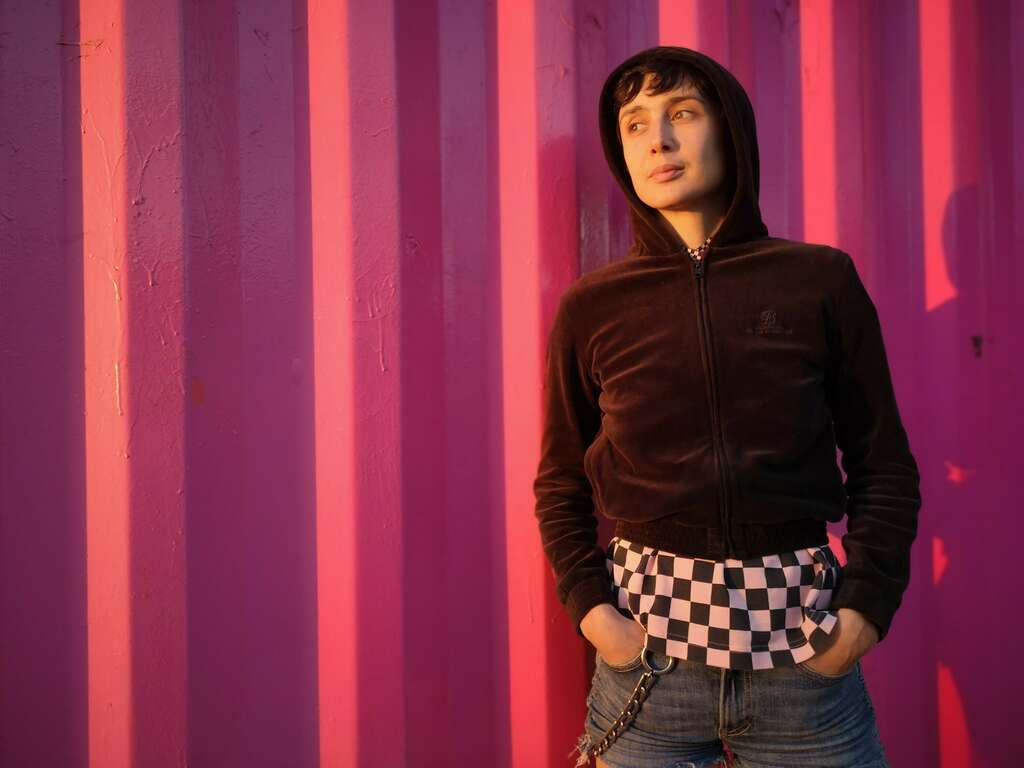 © Salomon Leonard Poutsma
Biography:
Nikima Jagudajev (1990) is a US American, Austrian/Uzbek choreographer. Their process based collaborative practice looks at social forms; social relations as spatial relations and how we assemble in fulfilling and considerate ways. Harnessing the choreography of play as a framework, performers (Conduit) and visitors (Arrivor) are incorporated into an open-ended game. World building is aided by a group of artists who shape the playground with elements such as live music, food, a deck of collectable cards, secrets and nonlinear dance choreographies that fold in on themselves like portals through time. These elements work as informal invitations to engage in different ways, shifting attention and offering agency and ontological transformation. Like 3-dimensional Massively Multiplayer Online Role-Playing Games (MMORPG) this mythopoeic world is both serious and playful, enchanted with meaning and full of mods. One's experience is determined by the games' formal properties as well as the interaction of various interpreting subjectivities. Performers and visitors share this slippery universe.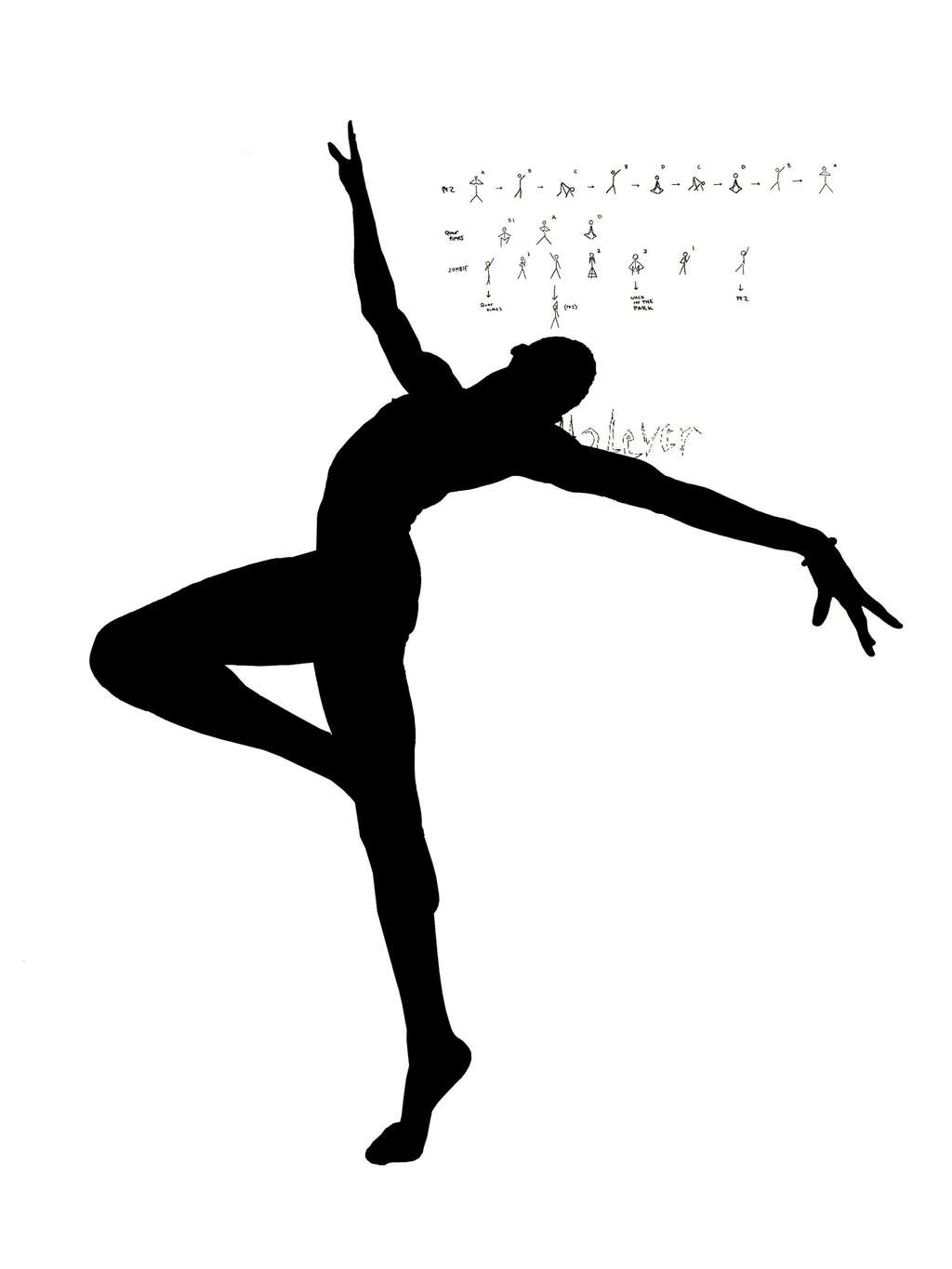 © Nikima Jagudajev, Zoë Field
Credits Basically:
Creation, direction & choreography: Nikima Jagudajev
Musical collaboration and technical direction: Jordan Balaber & Lester St. Louis
Dance: Laurel Atwell, Matilda Cobanli, Emmanuel Diela Nkita, Ezra Fieremans, Louise Trueheart
Music performance & movement: Jordan Balaber, M I M I, Ashley Morgan, Salomon Leonard Poutsma, Lester St. Louis
Game development: Laurel Atwell, Louise Trueheart
Graphic design: Laurel Atwell and Zoë Field
Clothing design: Laura Stalleci
Chef: Matilda Cobanli
Videography: Salomon Leonard Poutsma
Video editing: Saye Oyama, Salomon Leonard Poutsma
Photography: Stine Sampers
Musical contribution: June Jenkins, Amina Szecsödy Olsson
Powder deck contribution: Ayomoy Arrono, Laurel Atwell, Sanne Dodier, Nina Emge, Olivia Erlanger, Che Go Eun, Zoë Field, Polina Filipova, Padyn Humble, Melanie Matthieu, Abigail McNamara, Saye Oyama, Salomon Leonard Poutsma, Ra Tack, nick von kleist (nvk), Maïra Villena, Petra Webb, Amalia Wiatr Lewis
Production: Hiros
Co-production: WIELS, workspacebrussels
Residencies: Decoratelier, kunstenfestivaldesarts2021, workspacebrussels, Frankfurt LAB, KAAP, Dhaka Art Summit
Partners: Bergen Kunsthall, Centre Pompidou, Dhaka Art Summit, Mumok, Oktoberdans, BIT Teatergarasjen, Shedhalle Zurich, KAAP
With support from: BMKÖS, Flemish Government, Phileas Foundation, Re-imagine Europe, Vlaamse Gemeenschapscommissie.