shelf documents: art library as practice
(EN)
Free
Sold out
Book launch
Online event
Activating the newly published book initiated by Heide Hinrichs, shelf documents: art library as practice, this book presentation will take us through its scales of practice: the institution, the library, the book, listening, and the body. shelf documents features essays, interviews, and drawings, but it eludes such categories.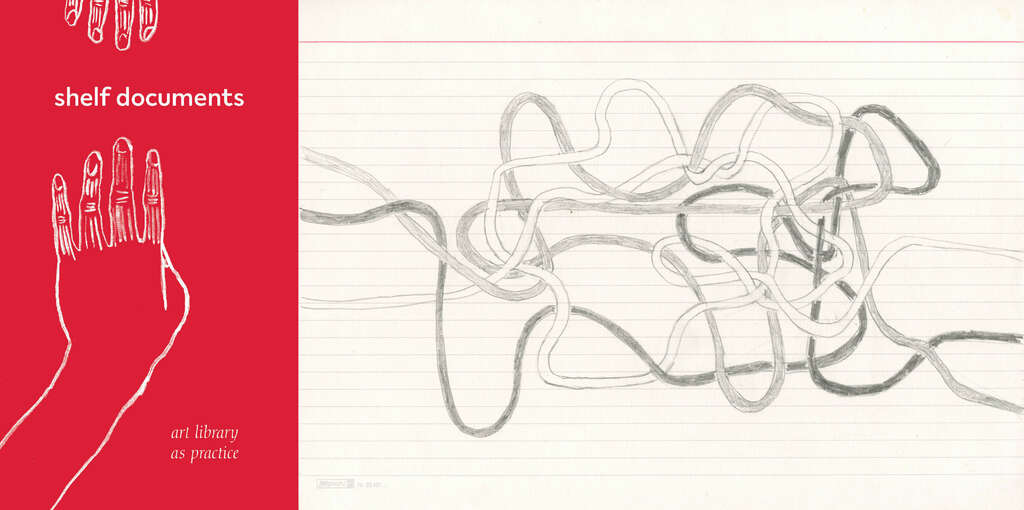 Between a reader, an artist's book, a project documentation and a catalogue, it might recall a pamphlet, a roadmap, or a recipe book that doesn't tell you what to do. It is a book that gets mis-shelved.
shelf documents emerges out of the project second shelf (second-shelf.org), a collaborative book acquisition project initiated by artist Heide Hinrichs in 2018 at the Royal Academy of Fine Arts in Antwerp, with a group of advisors. They integrated 223 new titles by nonbinary, women and queer artists as well as artists of colour in art libraries as a way to fill gaps, to amplify voices, to seek out the self-initiated and the overlooked. In thinking about diversity in collections, the publication proposes art libraries as sites of intersubjective communion, spanning practices that range from personal bookshelves and the libraries of art schools and universities, to those of spontaneous collectives and the ones associated with major museums.
In this session, contributors to shelf documents will unfold different modes of listening and voicing, including through Hinrichs' drawing practice that gave shape to Inscriptions, a series of drawings presented in Risquons-Tout. Participants are invited to reflect and remake their own practices.
shelf documents: art library as practice is edited by Heide Hinrichs, Jo-ey Tang and Elizabeth Haines. It features contributions by Sara De Bondt, Rachel Dedman, Elizabeth Haines, Heide Hinrichs, Laura Larson, Samia Malik, Melanie Noel, Marisa C. Sánchez, David Senior, Jo-ey Tang, Ersi Varveri and Susanne Weiß. It is published by Track Report, Antwerp, and b_books, Berlin, in 2021 and benefits from the support of RAFA Antwerp, KIOSK, Ghent, Beeler Gallery at Columbus College of Art & Design and WIELS, Brussels.
ISBN:978-3942214384
Publisher: Track Report, Antwerp and b_books, Berlin
Order online via Track Report, Royal Academy of Fine Arts Antwerp, b_books, Berlin or the WIELS bookshop.

Register now and share with us your first or strongest memory of using an art library, and what's missing in your art library.
Participants:
Rachel Dedman is Curator of Contemporary Art from the Middle East at the V&A, London. From 2013–19 she was an independent curator based in Beirut, Lebanon, where she curated for institutions large and small across the Middle East and Europe. Current and recent work includes projects for Kettle's Yard (Cambridge), the Whitworth Gallery (Manchester), Ashkal Alwan (Beirut), Sursock Museum (Beirut), Serpentine Galleries (London), and the Palestinian Museum (Ramallah). Dedman has been extensively published, and she is one third of Radio Earth Hold, a research collective creating and commissioning broadcasts from artists and writers. See also racheldedman.com.
Elizabeth Haines is a historian of science and Vice-Chancellor's Fellow at the University of Bristol. Her interdisciplinary interest in the materiality of knowledge production draws strongly on her education in Fine Arts. One strand of her research focuses on mapping and the lived experience of land rights in twentieth-century Africa. In another strand of research she has been exploring what scholars can learn about the recent past when they begin their research with objects. Haines is currently working on projects with the Science Museum Group, Bristol Museums Archives and Galleries, and National Museums of Kenya.
Heide Hinrichs is an artist based in Brussels, who works with found and existing materials. For the first Kathmandu Triennale (2017) she developed the project On Some of the Birds of Nepal (Parting the Animal Kingdom of the East). In 2018 Hinrichs published Silent Sisters / Stille Schwestern, an unauthorized German translation of Theresa Hak Kyung Cha's text Dictee (Tanam Press, New York, 1982). Her drawing series Inscriptions was shown in 2020 as part of Season Two: Follow the Mud, Beeler Gallery at Columbus College of Art & Design, Ohio; Risquons-Tout, WIELS, Brussels; and ringing critical forests, KIOSK, Ghent. Currently she is also researching and teaching at RAFA Antwerp. See also 4h-club.org.
Melanie Noel is the author of THE MONARCHS (Stockport Flats) and A Ringing (Goodmorning Menagerie). Her poems have also appeared in Spiral Orb, La Norda Especialo, GUEST, and The Arcadia Project. She's written for short films and installations, and curated IMPALA, a reading series that took place in her grandmother's car. She is an independent teacher and editor, and she gives experiential workshops invoking synaesthesia, which are becoming increasingly performative.
Jo-ey Tang can be an artist, a curator, and a writer. His work was shown at Musée d'art contemporain de la Haute-Vienne; IAC Villeurbanne / Rhône-Alpes; Komplot, Brussels, among other venues. He was Arts Editor at n+1, Curator at Palais de Tokyo, and Director of Exhibitions at Beeler Gallery at Columbus College of Art & Design. Tang has curated exhibitions at Centre Pompidou, Paris; Institute of Contemporary Art, Philadelphia; chi K11 art museum, Shanghai; Rupert, Vilnius; FUTURA, Prague. Tang's writing has been published in Artforum; The Brooklyn Rail; Flash Art; Wexner Center for the Arts; S.M.A.K., Ghent; Shimmer, Rotterdam. See also jo-eytang.com.
Ersi Varveri is a visual artist living and working between Antwerp, Athens and Syros. From 2017–2020 she co-hosted the artist-run space the Pink House (Antwerp) and co-founded the publishing workshop pink house press. Her work covers a wide range of artistic mediums, often dealing with the notion of space. For her research project Becoming a space she created a series of clothes, photographs, drawings, short stories and 'zines, testing self-publishing as a tool for an adaptive practice of (self-)reflection and creative archiving. See also ersivarveri.com.
Susanne Weiß is a curator and art mediator living in Berlin, where she also studied museology. Her curatorial approach is driven by the belief that the (art) exhibition, as a strong medium of communication, has to be intriguing and mediating its contexts. Therefore, she has initiated projects and formats which critically encompass a chorus of voices from different disciplines and directions. She has learned and worked in and between London, Oxford, Jerusalem, Vienna, Dresden, Sharjah, Heidelberg, Istanbul, Halle and Berlin. She strongly believes in the power of teamwork – all parties involved – from the artist to the zigzag machine operator. See also mukimaki.de.