Dummies, vacuum cleaners, sex toys, training equipment, hairbrushes… These are just some of the everyday items that South Korean choreographer and performance artist Geumhyung Jeong has collected these past years. In her performances she researches time and again the uncanny relationship between her body and these objects of modernity.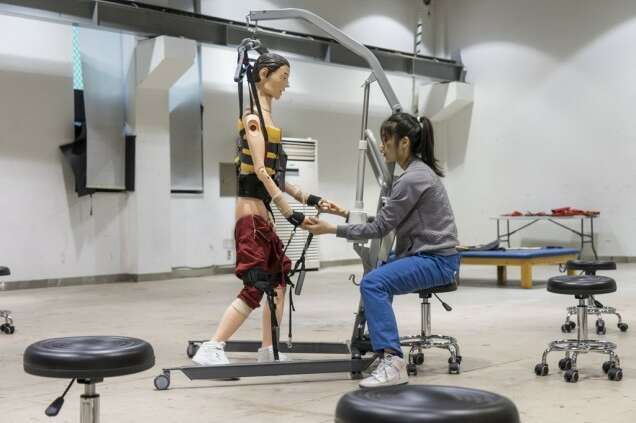 Her co-performer in Rehab Training is a life-size male dummy that is used in the healthcare industry to train nurses. Jeong confronts and controls this motionless dummy, while also trying to rehabilitate 'him' by means of concrete tasks. And so the relationship between the puppet and the puppeteer takes on a particular form that transcends ordinary intimacy. Who controls who? And how are we to describe this relationship between 'him' and 'her' when the boundary between subject and object is no longer clear?

In collaboration with Kunstenfestivaldesarts
17/05 – 19:00
18/05 – 15:00
19/05 – 15:00
21/05 – 19:00
22/05 – 19:00
23/05 – 19:00

WIELS
180 min, no seats
€ 18 / 15
Tickets via Kunstenfestivaldesarts
With this ticket you can access the exhibition of Mario García Torres before the performance.
Concept, direction, performance: Geumhyung Jeong
Presentation: Kunstenfestivaldesarts, WIELS
Production supported by: Arts Council Korea
Coproduction: PACT Zollverein (Essen), Audio Visual Pavilion (Seoul)
Supported by: The Korean Cultural Centre of Brussels