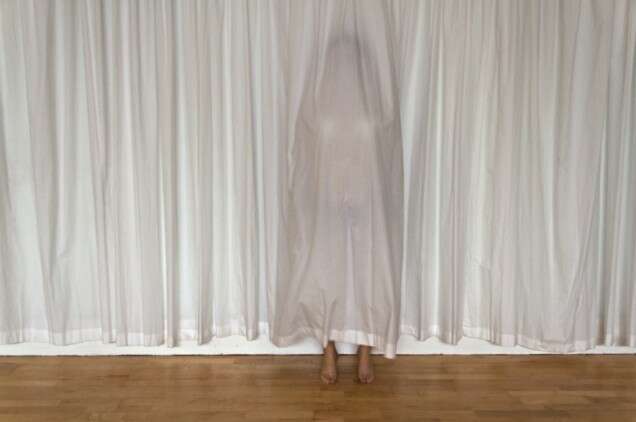 During its opening night, the otherwise "still" space will be filled with movement. The artist invites four other performers to dance exuberantly in a session of free movement – a very private journey – for the public. The question that guides the session is taken from Virginia Woolf's autobiographical writing: "Who is the person to whom all this happens?"
Eeva-Mari Haikala is a Finnish visual artist who was in residence at WIELS in 2015. She works with diverse media such as video, photography, performance, sound and installation, often in reference to theatre and art history. Haikala's works have been presented in various solo and group exhibitions since the early 2000s, both in Finland and abroad. She recently obtained a PhD from the Department of Drama, Theatre and Performance at Roehampton University, London, with her research project An Attempt to Mirror the Painterly and Stillness in Autobiographical Visual Practice. Alongside her artistic practice, Haikala works as freelance writer focusing on contemporary art, visual culture, dance and live art.
The performance is created with the artistic assistance of Thomas Dupal. Danced by: Thomas Dupal, Meri Pajunpää, Hugo Mega, Jack Vincent, Eeva-Mari Haikala. The exhibition is supported by the Finnish Cultural Institute for the Benelux, Arts Promotion Centre Finland and the Finnish Cultural Foundation.
WIELS Project Room
17.12.2016 – 08.01.2017
Tuesday – Sunday, 14:00–18:00
Opening 16.12.2016, 18:00–21:00
Opening that same evening at Rectangle: Christophe de Rohan Chabot