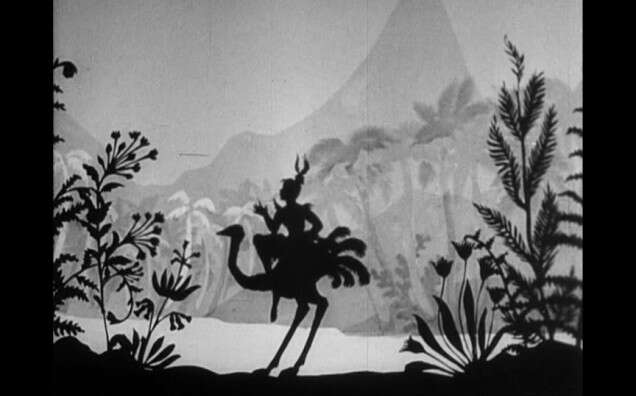 10:30am to 1:00pm: Film

The Kiriki: Japanese Acrobats, by Segundo de Chomón, 1907, Japan, colour, silent, 2:40 min.
Segundo de Chomón's tumblers, human pyramid virtuosos, hobble along but their somersaults fall a little flat. And once the 'trick' is disclosed, the capers reveal themselves to be a bluff. But what skill! The buffoonery is far from ridiculous. 
Chomón is an editor, and he masters effects and splicing marvelously. The film is back in its original splendour. It will turn you upside down.

One Week, Buster Keaton, 1920, USA, b&w, 22 min.
Newlyweds Buster Keaton and Sybil Seely receive a build-it-yourself house as a wedding gift. But a rejected suitor re-numbers the packing crates that, in the proper order, would have given them a home ... surreal.

Papageno, Lotte Reiniger, 1935, Germany, b&w, no dialogue, 10 min.
Papageno plays with the birds through a series of arias from Mozart's The Magic Flute, but he's also thinking of finding his Papagena ...

Die Eisbaderin (The Skater), Alla Churikova, Germany, 2003, color, no dialogue, 8 min.
Story of a poor old woman who lives in her dreams of happy childhood. Animation of coloured sand.

The Future is Bright, Jodie Mack, 2011, USA, colour, English, 3 min.
Experimental movie that sings all the colours of the rainbow.

11:15-11:30am: Break

11.30-12.00: TOUR OF WIELS AND THE EXHIBITIONS (Fr)

12.00-1.00pm: 2 WORKSHOPS, animated by Elke Van der Kelen & Joke Buts
Fall has arrived. It shows in all the colours of the trees and plants, and it has inspired us and create a colour slide attached to a mobile. We'll make our own series of abstract colour slides. Followin a brief presentation, we'll use the slides to create a fun artwork.