Billy Bultheel & James Richards: Workers in Song
Performance
Sold out
Installation
The result of a collaboration between visual artist James Richards and composer Billy Bultheel, Workers in Song brings together new music, archival film and text. The performance is haunted by histories of occult photography and spectral music, as well as more trivial pleasures such as internet hook ups, party drugs, fanship and Franz Schubert's Winterreise.
Performance:
Sat. 09.09, 18:30 I Sold out
Sun. 10.09, 16:00 I Sold out

Exhibition rooms +2
Tickets: €12/8 (Performance) or €15/10 (Combi performance + exhibitions on Sunday)
Exhibition from 12.09 to 08.10.2023

** Please be advised that the performance contains fast flashing images which may cause discomfort and trigger seizures for people with photosensitive epilepsy.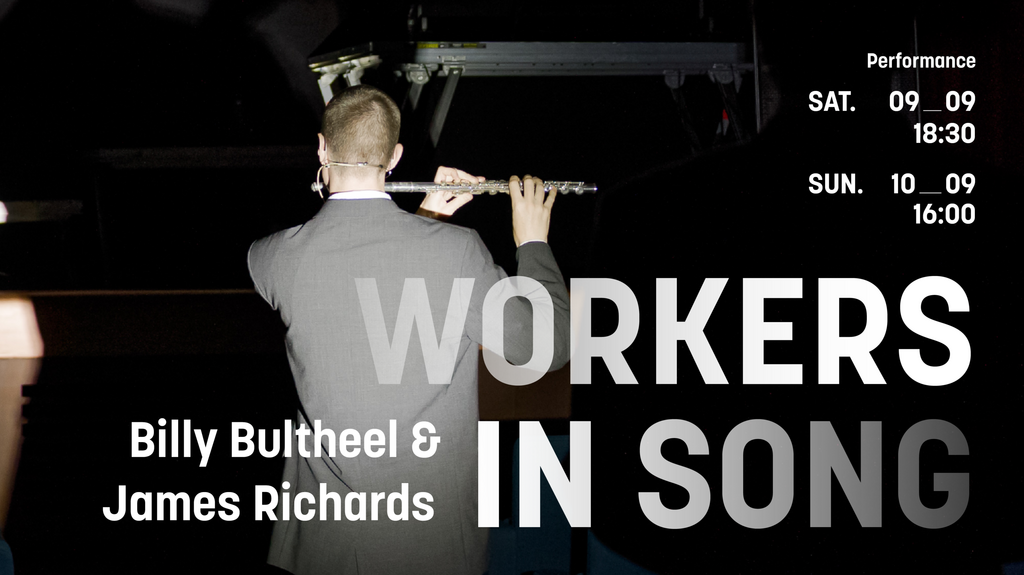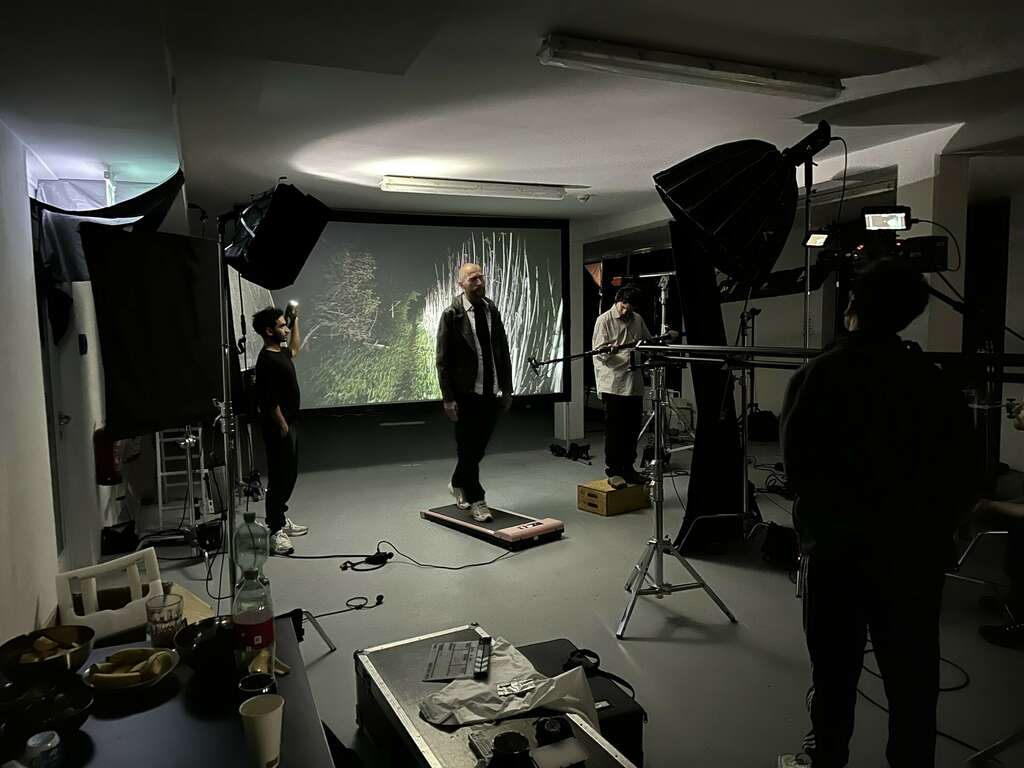 Featuring works by Warren Sonbert, Wendy Appel, Ian White, Rae Armantrout, Liesl Lindeque.
Performers Alexey Kokhanov (voice, piano), Adam Sinclaire (flute), Clara Levy (violin), Julie Michael (viola), Hanna Kölbel (violoncello), Sebastian de la Cour (bariton), Sara Neidorf (percussion).

Conceived to be episodic in structure, the compositions are reworked, videos added or replaced, and new musicians invited into the ensemble as it travels. At WIELS, Workers in Song takes the form of a chamber music concert for flute, piano and voice with digital video projection, live performance and multichannel electronic sound. The elements are expanded and further developed by the musicians in real time, with live melodies roving through the space encountering several pre-recorded cameos; as well as works by other artists and writers, hosted within an architectural environment designed by the artists.
Taking apart the seamless and unified apparatus of the film programme or chamber concert, Workers in Song inhabits the whole of the second-floor gallery at WIELS, turning it into a cinematic Frankenstein. Songs and images come flickering and humming into life, performers shift in front and behind the audience, weaving an array of cover versions, interruptions, distortions and homages. Workers in Song questions the boundaries between liveness and the pre-recorded, between presence and absence, between ghosts and the archive in a dynamic and intimate encounter between the audience, musicians and the moving image.
Curator: Helena Kritis
Co-commissioned by: WIELS Centre for Contemporary Art, Batalha Centro de Cinema, Mudam Luxembourg – Musée d'Art Moderne Grand-Duc Jean and KW Institute for Contemporary Art.

With support of: Galerie Isabella Bortolozzi, Berlin & Kemmler Foundation

Performances
Written, directed and produced by Billy Bultheel & James Richards
Performed by Alexey Kokhanov (voice, piano), Adam Sinclaire (flute), Clara Levy (violin), Julie Michael (viola), Hanna Kölbel (violoncello)
Sound engineer Christophe Albertijn
Technical assistance Perikles Lazarou
Styling wang consulting
Production WIELS
Curatorial Intern Lisa Longworth
Additional works by Warren Sonbert, Wendy Appel, Ian White, Rae Armantrout, Liesl Lindeque
Exhibition
Written, directed and produced by Billy Bultheel & James Richards
Filmed appearances Sebastian de la Cour (bariton), Sara Neidorf (percussion)
DOP Tom Rosenberg
2nd Camera Milan Daemgen
Sound Recordist Simone Antonioni
Key Grip Braden Harris
Production Assistants Lea Hopp, Sinaida Michalskaja
Film Locations anorak and bplus.xyz, Berlin
Production Manager Johanna Markert