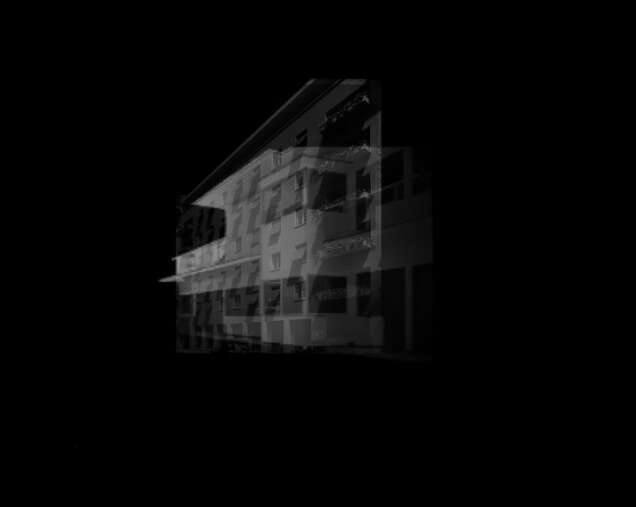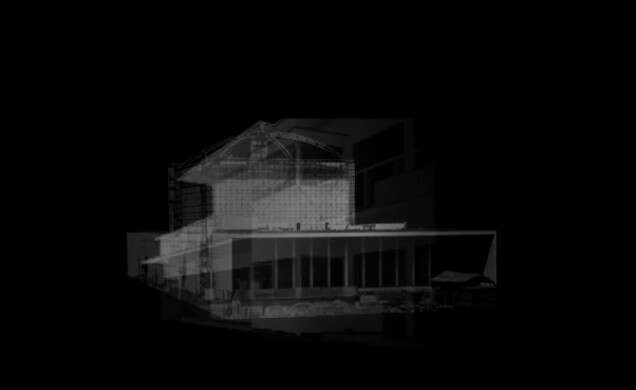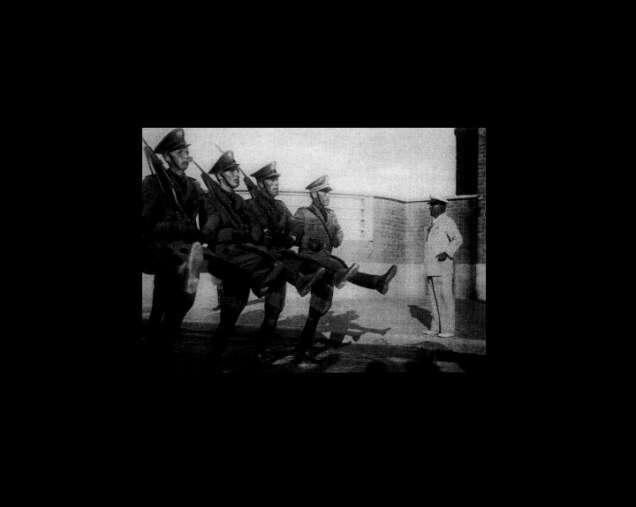 "Il y a un homme à droite et quatre à gauche. Il parait inébranlable. Habillé d'un costume blanc
certainement décoré. Son coude est fléchi pour permettre au bout de sa main gauche de se dissimuler
dans la poche de son tailleur, une manière machinale de souligner la gène de son embonpoint.
Il exhibe ses souliers clairs et son couvre chef. Peut-être une cravate qu'on peine à distinguer tant
son buste est braqué vers sa horde. Le maintient de son regard vers l'extérieur annonce la prochaine scène.
Les autres se tiennent actuellement côte à côte. Leurs corps tendus, fusionnant leurs vestes
raides,leurs jambes levées jusqu'à la hanche, ils nous montre leurs semelles éclairées. Le mur du
fond les surplombes. A l'arrière, la lumière zénithale efface le rebord du bâti. Il semble être fait
jusqu'à mi-hauteur de fines briques ordonnées, la partie basse elle, est fraîchement recouverte de
béton. L'enceinte ainsi habillée, supporte un parapet bombé nivelé au centre de barres métalliques
blanches. De ce belvédère, on perçoit les ombres des personnages qui grises le décor,
en barrant de croix nettes le trottoir et l'allée goudronneuse. Le nuance monotone du bas-coté produit
l'effet d'un décollement du sol. Le rang des quatre jeunes, vu d'ici forme un triangle sombre, idéal résistant à la clarté du ciel.
Le sommet du triangle est dessiné par la pointe de leurs fusils et révèle dans le noir le bord de l'image.
Au premier plan, on constate que les contractions des corps peuvent d'un moment à l'autre renverser l'eurythmie des surfaces."

Text by Aurelie Gelade,
The text "From Version" is a reference to the movie eponym "Version" (2007).