To mark the launch of the comprehensive and richly illustrated monograph Bernd Lohaus: IM SEIN BEI, this exceptional panel brings together Anny De Decker, Thomas Desmet, Stella Lohaus and Dirk Snauwaert to discuss the life and work of the artist Bernd Lohaus (1940–2010).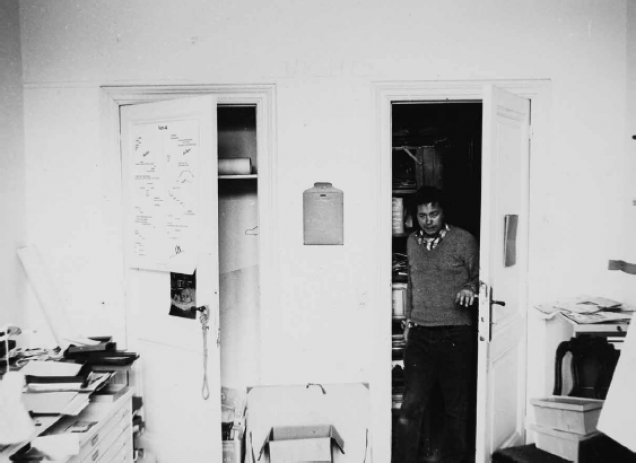 Across a wide variety of mediums – sculpture, installation, painting, drawing and writing – Lohaus distilled materials to their unadorned essence, while infusing them with poetry through the stark selection of words and colours. The discussion, moderated by Antony Hudek, will highlight the ways in which Lohaus' practice continues to resonate today.
Anny De Decker is the wife of Bernd Lohaus and ran Wide White Space with him from 1966 to 1976. In the 1980s she taught at the National Higher Institute for Architecture in Antwerp. De Decker has written on many artists (including Guy Mees, Philippe Van Snick, Panamarenko, Marcel Broodthaers) for catalogues and magazines. In 1995, she founded together with her daughter Stella "HAUS of prints, multiples and drawings", producing editions and multiples with, among others, Thomas Schütte, Fabrice Hybert, James Welling, Marijke Van Warmerdam, Henk Visch, Jimmie Durham and Ann Veronica Janssens.
Thomas Desmet is co-editor with Stella Lohaus of Bernd Lohaus: IM SEIN BEI, as well as its designer. He previously co-edited and designed Bernd Lohaus: Blumen (Ridinghouse, 2017). He has edited and designed books with artists and writers for more than ten years and is a regular collaborator on Joëlle Tuerlinckx's book projects. He is currently teaching at KASK School of Arts Gent.
Stella Lohaus is the daughter of Bernd Lohaus. From 1997 until 2011, she ran her own gallery representing artists such as Joëlle Tuerlinckx, Erik Van Lieshout, Manfred Pernice, Dennis Tyfus, Job Koelewijn, Jan De Cock, Monika Sosnowska and John Bock. In 2018 she was appointed director of LLS Paleis (formerly known as LLS 387), an independent and non-profit art space in Antwerp. Together with Thomas Desmet she is co-editor of two books on Bernd Lohaus: Blumen and IM SEIN BEI.
Dirk Snauwaert is Director of WIELS. He has curated numerous exhibitions, both monographic and thematic, and lectures and publishes regularly on art and visual culture. He worked with Bernd Lohaus for Tielt Beelden Buiten 1987 and for the survey exhibition on the history of the gallery Wide White Space Behind the Museum, at the Palace of Fine Arts Brussels (Bozar), Kunstmuseum Bonn 1994-95 and Mac Marseille in 1996.
Antony Hudek is director of Curatorial Studies at KASK, and co-founding director of Occasional Papers, the co-publisher with the Bernd Lohaus Foundation of Bernd Lohaus: IM SEIN BEI.
18.12.2019, 19:00
WIELS AUDITORIUM