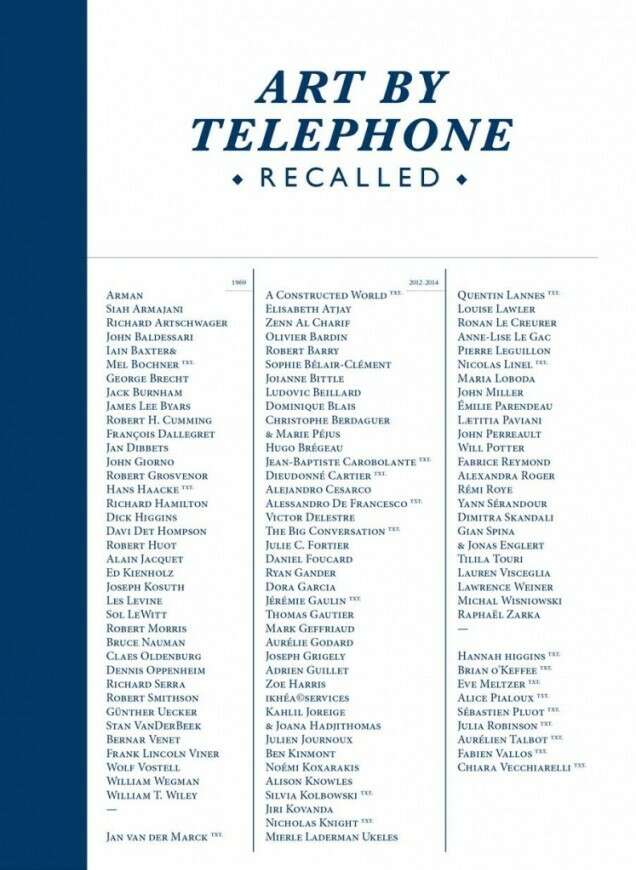 Art by Telephone took place in November 1969 at the Museum of Contemporary Art, Chicago. Jan van der Marck, the curator of this exhibition, brought together a heterogeneity of artistic practices around the following concept: instructions for the works in the exhibition would be transmitted orally by telephone, to then be executed by museum staff or local artisans. Involving sending an idea, transported remotely by language, Art by Telephone is one of the first exhibitions to present the ambition to show the conceptual nature of artistic production of this period. The project refers explicitly to a previous work: Telephone Pictures (1922) by László Moholy-Nagy. Jan Van der Marck's aim was also to pay tribute to the work of Marcel Duchamp who have contributed to the development of the concept behind delegating the production of a work of art.
Art by Telephone... Recalled was initiated by the research program ''En Traduction'', co-directed by Sébastien Pluot and Fabien Vallos at the École Supérieure des Beaux-arts d'Angers. A series of seminaries took place questioning the notion of original and the piece's autonomy, the author figure's dismissal, the ethical consequences in processes of delegation, of translatability and operativity, of the phenomena of a meaning and its various versions and its propagation. The project Art by Telephone... Recalled was a space of reflexion on the critical modernity of the piece.
www.artbytelephone.com between Sébastien Pluot and Fabien Vallos ( presentation of the publication and his editorial organisation )
+ intervention : Alessandro De Francesco
Alessandro De Francesco, PhD, was born in Pisa, Italy, in 1981. After having left his hometown, he lived in Berlin, Lyon, Siena, Paris, Strasbourg, London and he currently lives and works in Brussels, Belgium.
A poet, a thinker and a language artist, Alessandro is currently recipient of the writers' grant of the French Centre National du Livre and is a visiting Faculty member of the European Graduate School.
Art by Telephone… Recalled
With: A Constructed World, The Big Conversation, Mel Bochner, Jean-Baptiste Carobolante, Dieudonné Cartier, Alessandro De Francesco, Jérémie Gaulin, Hans Haacke, Hannah Higgins, Silvia Kolbowski, Quentin Lannes, Nicolas Linel, Eve Meltzer, Brian O'Keeffe, Alice Pialoux, Sébastien Pluot, Julia Robinson, Aurélien Talbot, Fabien Vallos, Jan van der Marck, Chiara Vecchiarelli.
Editors / Directeurs de la publication : Sébastien Pluot & Fabien Vallos
Editorial coordination / Coordination éditoriale : Alice Pialoux
Graphic design / Graphisme : Dieudonné Cartier
Page number / Nombre de pages : 502 pages
Distribution / Distribution : R-Diffusion
Co-edition / Co-édition : éditions Mix., La Panacée, cneai=, esba Talm, Ebabx
ISBN 979-10-90951-03-7
Price / Prix : 25 euros
22.05.14 : 7pm