Book signing & conversation between Thomas Bayrle and Nicolaus Schafhausen
(EN)
Like the traveling exhibition, the catalogue All-in-One, recently published by WIELS Contemporary Art Centre with the help of the Goethe-Institut Brüssel, represents a first attempt at offering an overview of Thomas Bayrle's multifaceted practice, from his first kinetic machines to the recent engine installations.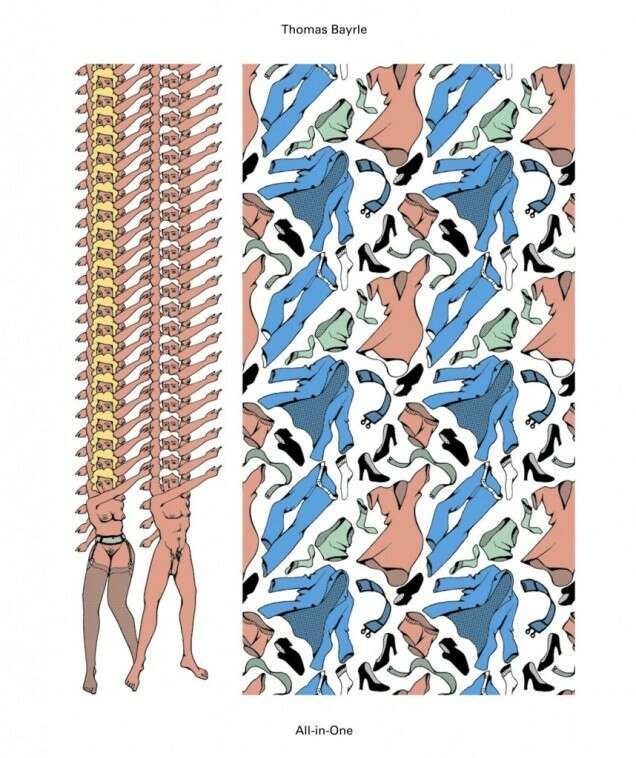 Amply illustrated, the catalogue highlights not only the silkscreen prints and super-images Bayrle is perhaps best known for, but also his sculptures, his early work as a graphic designer and publisher (included in the publication is an illustrated bibliography of all of Bayrle's artist books), his videos, as well as samples from his own texts (excerpts from his "San Francisco Diary" of 1981 are reprinted here for the first time) and from his dabblings in concrete poetry. Holding together this expansive approach are the concerns that have always animated his work: consumerism and consumer society, political propaganda, weaves and patterns, movement, sexuality, religion.
At the occasion of the book signing, Nicolaus Schafhausen will hold a public conversation with the artist. Before starting his career as a curator in the 1990's, Nicolaus Schafhausen worked as an artist. From 1995 to 1998 Schafhausen served as artistic director of Künstlerhaus Stuttgart, and from 1999 to 2005 as director of the Frankfurter Kunstverein. From 2003 to 2005 he was a curator at the Nordic Institute for Contemporary Art in Helsinki (NIFCA). From 2005 to 2007 he was the founding director of the European Kunsthalle. From 2006 to 2012 he headed the Witte de With Center for Contemporary Art in Rotterdam. Nicolaus Schafhausen was the curator of the German Pavilion for the 52nd and the 53rd Venice Biennale in 2007 and 2009. Currently, Schafhausen is the strategic director of Fogo Island Arts, an initiative of the Canadian Shorefast Foundation that carries out a resident programme on the island of Fogo in Newfoundland, and the artistic director of Kunsthalle Wien. His thematic orientated group exhibitions have in the most part examined specific art practice in relation to contemporary social-political issues.
The Juicy Jugs (Michael Bussaer & Kwinten Lavigne) will close the night with a dj set.
All-in-One
Co-published by Buchhandlung Walther König, WIELS Contemporary Art Centre and Museo MADRE
Texts by Devrim Bayar, Marta Kuzma, Jörg Heiser & Thomas Bayrle.
224 pages, 150 color plates.
18:00 : book signing
19:00 : public talk
20:00 : dj set
Free entrance