Fête de la musique : Martiens Go Home! & South of No North
Chaque année, le Conseil de la Musique consacre le vendredi de la Fête de la Musique à un projet original et ambitieux. Un seul mot dordre, sortir des sentiers battus, explorer des lieux inédits et proposer une manière différente denvisager la musique.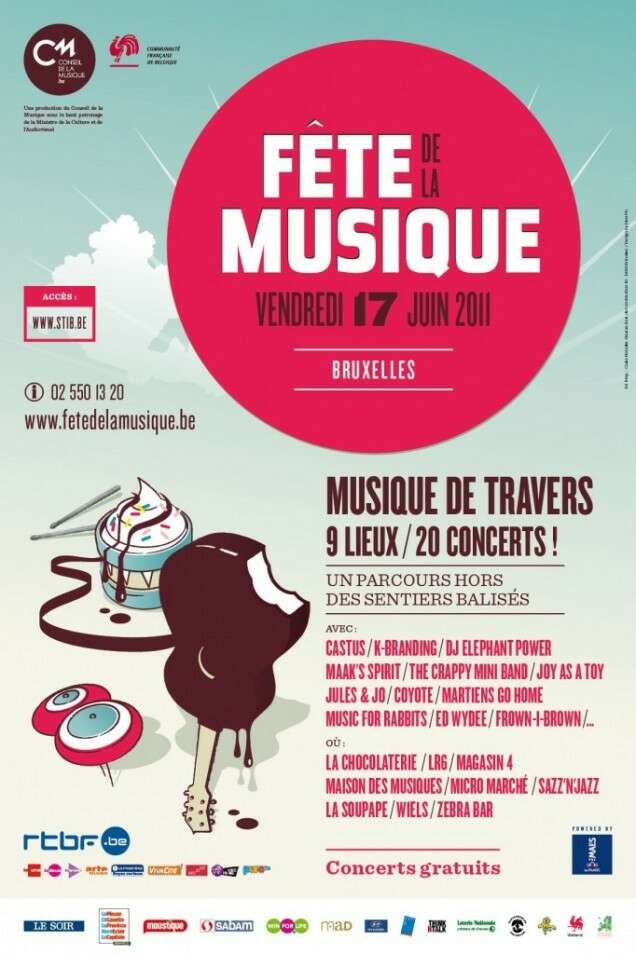 Pour cette 27ème édition, le Conseil de la Musique proposera une soirée consacrée à la découverte dartistes en marge. Le temps dune soirée, toute une série de projets musicaux moins médiatisés et réputés plus pointus se produiront dans une dizaine de lieux de la capitale dans le but de susciter la curiosité dun public nouveau ou différent.

Cette soirée axée sur la découverte mettra en avant une très large palette de styles musicaux.

Programme au Wiels :
20h00 Martiens Go Home!
21h00 South of No North
Fondé en Avril 1996, martiensgohome est un collectif sonore basé à Bruxelles, dont la vocation première est radiophonique. Opérant à l'intersection de la création radio, de la musique électronique et de la musique improvisée, il est présent sur les ondes bruxelloises sans discontinuer depuis sa première création sur Radio Campus. Paysage sonore instantané, musique concrète primitive, la musique de martiensgohome est avant tout une célébration du son, du bruit le plus brut au tintement le plus cristallin. Les enregistrements qu'ils prélèvent chaque semaine sur le terrain, sont ensuite montés, traités et confrontés aux trouvailles de chacun. Ils ont en outre un faible pour le bricolage, le DIY, les instruments défectueux, favorisant l'accidentel dans la construction de leurs narrations.
Derrière lénigmatique pseudonyme de South of No North se cache en fait la nouvelle incarnation de Drifting Bear Collective. Auteur dun très remarqué premier album sorti en 2007, ce super groupe bruxellois composé entre autre de Cédric Stevens (plus connu sous le pseudonyme dAcid Kirk), de Laurent Delforge (Squeaky Lobster), de Jeanri Rigo (Flash Bunny) et de David Meunier (Naan) sest adjoint les services de laventurier sonore Laurent Baudoux (Sun Ok Papi Ko, Scratch Pet Land, Fan club Orchestra, Mouche-Man) pour lenregistrement de leur deuxième album. Au menu, une musique instrumentale à haute teneur psychédélique, un brassage unique entre le rock des années 70, le free jazz et lexpérimentation sonores.
Programme complet du parcours "Musique de Travers" disponible en cliquant ici.