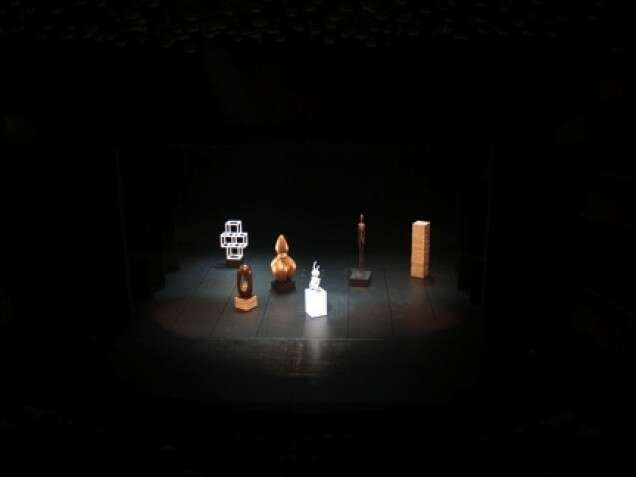 The evening opens with Marie Menken's sumptuous 4 minute Visual Variations on Noguchi from 1945, a rare experimental classic that has proven an inspiration to young artists. However different, the films that follow retain a shared sense of awe in front of sculpture. From Ed Atkins's The Trick Brain tracing and commenting on the interior of André Breton's mythical 42 rue Fontaine artifact-lined apartment; and Oliver Laric's Versions (one of an ongoing project), a computer-animated essay on the nature and history of image and sculpture production and consumption, into the digital age; to Alice De Mont's 12poot, its slowly moving actor and gangly object comprising what the artist herself calls "filmsculpture," one of an ongoing foray into giving filmic form to the materiality of things. The evening ends with the artist duo Elmgreen & Dragset's Drama Queens, in which seven remote controlled life-size sculptures from the 20th century (based on Hans Arp's Cloud Shepherd from 1953, Alberto Giacometti's Walking Man from 1947, Barbara Hepworth's Elegy III of 1966, Jeff Koons's Rabbit from 1986, Sol Lewitt's Four Cubes of 1971, an untitled granite sculpture by Ulrich Rückriem from 1984, and Andy Warhol's Brillo Box from 1964) meet on stage and talk about life and art. Carrying us from the immediate postwar to the hyper present, and back again, the numinous power of the sculptural object is again the subject here.
Program:
Marie Menken, Visual Variations on Noguchi, 1945. 16mm transferred to DVD, b/w, sound, 4 min.
Ed Atkins, The Trick Brain, 2012. Video, colour, sound, 15 min.
Oliver Laric, Versions, 2010. Video, colour, sound, 9 min. 6 sec.
Alice De Mont, 12poot, 2012.HDV, colour, sound, 12 min.
Elmgreen & Dragset, Drama Queens, 2007. Video, colour, sound, 41 min. 43 sec.
Total screening time: 1 h 20 min (01:21:49)